Boudreau Headed to Quinnipiac Early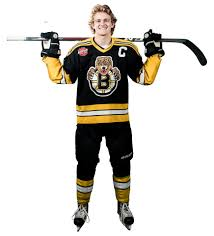 Quinnipiac University has decided to accelerate Junior Bruins captain and veteran defenseman Cam Boudreau and have him join the Bobcats for the 2nd half of the 2018-19 season. Quinnipiac is enjoying great success so far this season (14-3-0, ranked #5 in the nation) and the B's blueliner will provide them with depth and stability on the backend as they make a push for a championship.
Cam, a native of Salem NH, appeared in all 29 games for the Junior Bruins so far this season and had recorded a 3-11-14, +24 line. Boudreau joined the Bruins prior to the 2017-18 season and made his commitment to the Bobcats halfway thru last year's campaign. At 6'1 180 he is a good size defenseman who is an elite skater and should make a seamless transition to the next level.
The Bruins have had great success in the recent past not only committing defenseman to Division I NCAA hockey but those players have gone on to enjoy very productive collegiate careers with their schools. Most recently, Boston College captain Michael Kim, transferred in halfway thru his last season with the Bruins and is now captaining the Eagles as a junior. Other notable Bruins Division I defenseman of late include; Clay Han (Dartmouth), Matt Harris (RPI), Pat O'Leary (Holy Cross), AJ Villella (Northeastern), Kevin McKernan (Quinnipiac), Josh Couturier (UMASS), Harrison Markell (Dartmouth), Billy Carrabino (Northeastern), Connor Doherty (Sacred Heart), Corey Moriarty (UVM) and with current commits Michael Brown (Merrimack) and Sean Keohan (Dartmouth).
"We're excited to see Cam play at the next level. He's worked hard to get himself ready and I'm proud that Quinnipiac is ranked as high as they are and feel that Cam is ready to come in and help their hockey team. Hopefully it speaks a bit to the development opportunities that our players are getting here", head coach Mike Anderson said and went on to add, "Cam is a terrific person. His family has been wonderful to work with and we're confident that he'll have great success under coach Pecknold and their staff. We will miss him here of course but this is about development first and to that end I'm excited to see guys respond to their opportunities to come in and lead our group for this second half of the season".
Congratulations to Cam and his family and we wish him great success and he begins his collegiate career with the Bobcats!