JUNIOR BRUINS' PATRIARCH PASSES
MARLBORO, MA – On Monday afternoon (June 5, 2017), Junior Bruins patriarch and founder, Peter J. Masters, Sr. passed away peacefully. He is survived by his wife, Karolyn, sons Peter and Chris, daughters Kristine and Katy and his twelve grandchildren. He was 70 years old.
He was born in Boston on October 15, 1947 and grew up in Dorchester and Everett, MA. After high school, he served his country as a member of the United States Air Force during the Vietnam era. After getting married at 23, he moved to California pursuing work in 1970. Shortly after moving to Los Angeles, he left his job and started his own computer company, Data National. He and his growing family moved to back to Massachusetts and settled in Lexington in 1977. His company was headquartered in Burlington, MA and he owned the business until the late 1990's. He transitioned out of the computer business and into real estate and the sport he loved, hockey.
After seeing what the junior level of hockey in the Midwest did for his son Peter's development and exposure after high school, he took over the one-year old Junior Bruins program in early 1992. In those years, the team was based out of the Steriti rink in North End rink and junior hockey was in its infancy in the Boston area. One of his first hires was 28-year old Scott Harlow, who would go on to be a co-owner of the South Shore Kings and is now a full-time scout with the Edmonton Oilers. In 1998, he hired a young U-Lowell hockey alum, Billy Riga, who had just finished his playing days and wanted to get into the coaching world. Riga would go on to be a key figure in the rise of Union College hockey as a national power. He is currently the Associate Head Coach at another national power, Quinnipiac University.
After running the team for seven years, he had the idea of starting a full season midget team to compliment the junior team. At the time, there were no full season midget teams in New England. This team was started from nothing and they began play during the 2000-2001 season. That team would later become the Junior Bruins Empire team and, for the last six years the Junior Bruins 18U team. This team and it success paved the way for so many other teams in the area to start a program of their own.
In 2004, he was also a key figure in the founding of the Jersey Hitmen and was an owner until the team was sold to its current owners in 2008. In his last season as an owner, the Jersey Hitmen won their first league playoff championship after just four short years of existence.
Our father saw the value in what junior hockey did for Peter and me following high school and prior to college. He looked around Boston and saw a major void in what was offered to players following youth hockey and he acted on it. He was the driving force during the first eight years of the Junior Bruins existence. He fought every force imaginable in the hockey establishment to keep the team going and succeeding. Many times, keeping the program alive by his sheer will alone. When you look at the hockey landscape here in New England and the east coast, there are now over a hundred junior teams, 18U & 16U full season midget teams. The area now boasts one the top leagues in North America at both the junior and midget level, as well as some of the best teams in the country that have graduated thousands of players into college hockey programs. The Junior Bruins, as well as junior hockey and full season midget hockey on the east coast, would not be what it is today without Dad's vision, perseverance, support and execution.
On a personal level, He was the driving force in Peter and my hockey careers. He knew how important "icetime" was and spent his winters nights building and maintaining a rink in the backyard so we could skate whenever we wanted. He knew that the time on the ice alone wasn't enough and bought a hockey net to put in the driveway. He had to replace the picket fence behind it repeatedly and he did it with a smile knowing we were using it so much. The endless hours spent in a car driving to games were his favorite and something he talked about often that he missed when our youth hockey days were over. I can remember one time driving seven hours home in the middle of a summer vacation in Ocean City, NJ to play in a summer league game and then he and I turning right around and driving seven hours back to the shore. The sacrifices he made and guidance he gave to Peter and I were life changing.
Over the last few days we have heard from hundreds of people in the hockey community offering condolences and some sharing how Dad helped them along the way as well. It has been wonderful to hear from so many and to hear how the "Old Man" helped so many along the way.
He was a larger than life character. Who else on the planet can say they fought Marvelous Marvin Hagler (in a bar in the 80's), Mickey Dolenz from the Monkees (at a bar in Los Angeles) and the Dos Equis owner's son (when on a sales call in the 1970's)? Come to the funeral on Monday to hear some of his greatest hits.
He will be missed by so many whose lives were positively affected by him.
Rest in peace Dad, the world will not be the same without you, we love you.
Wake:
Sunday, June 11
4:00-7:00 PM
Douglas Funeral Home
51 Worthen Rd.
Lexington, MA 01752
Funeral Service:
Monday, June 12
11:00 AM
Grace Chapel
59 Worthen Rd.
Lexington, MA 01752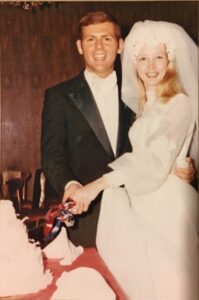 July 4, 1970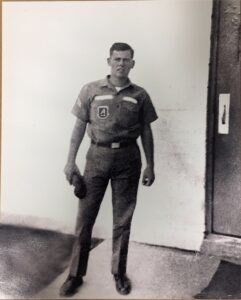 Circa 1965